About Holloway Building Solutions
At Holloway Building Solutions, registered building practitioner Andrew Holloway (DBU12881) brings over 26 years of commercial and domestic building experience with him, including more than 9 years as site manager working on million dollar award winning projects - experience that offers you confidence and peace of mind.
Born from our local family history of supplying quality building materials, combined with Andrew's experience and expertise, HBS create homes that are Built for Living. Ask us to help you with design solutions to meet your individual needs.
In recent years, Andrew has managed major building works across the state with one incorporating Geothermal Heat Exchange, alternative energy experience you can trust.
A member of Master Builders Victoria, all HBS sites are fully covered by builders indemnity and are WorkSafe approved, offering you the assurance that safety is always at the forefront.
Committed to quality, Andrew and his team continually undertake training to ensure they are up to date with the latest innovations and regulations. This includes environmental sustainability, new building materials and design innovations, meaning you can be assured you're getting the right and most up to date advice the first time, always, Built for Living.
Areas We Service
Holloway Building Solutions have a range of building options and can service throughout Victoria including Bendigo, Ballarat, Geelong, Shepparton, Euroa, Yea, Whittlesea, Kilmore, Wodonga & Wangaratta.
We Promise You!
Integrity
We are committed to our promises, be assured we follow through with what we say. Through a controlled workload, we ensure we stay committed to commencement and completion dates.
We also offer plain English contracts, no need to try to read between the lines.
Quality
We aim to exceed your expectations by ensuring you receive only the best quality materials and workmanship.
Personalised Service
Your only contact from the first enquiry to completion is direct with your builder, Andrew Holloway. He will guide you with selections and solutions, keep you up dated during construction and celebrate with you at completion.
Flexibility
We work with you to design your dream home regardless of budget, land and life choices.
Ask us to help integrate alternative energy solutions into your designs.
Responsibility
We care for the environment by ensuring we keep up to date with latest sustainable designs and products.
Our trades team work safely and responsibly, with their skills updated on a regular basis.
The Holloway Story
My grandfather, Eric Holloway began spot milling timber at age of 17. He borrowed fifty pound from an uncle in 1934 to purchase a McCormick Deering tractor and saw bench. He went from farm to farm cutting timber for farmers. For a time he worked on Shelley Station spot milling with WS Walker and Son. When war broke out in 1939 timber millers provided the essential service of providing timber for the Australian Army.
After the war ended, in approximately 1946 Arthur and Eric Holloway established a saw mill at Shelley. Another brother Ernie, a builder and returned soldier, worked with them from time to time. Using timber sawn in the mill he built eight basic houses for the mill workers. The brothers employed many migrants and other hardworking people. This meant there were families, so Ernie also built and furnished a school at Shelley. Application was made for a teacher from the Education Department.
The army was a big customer with Holloways supplying timber for the army huts that were built at Bandiana. These have been removed in recent years to make way for White Box Rise Estate.
A timber mill that had been built at Tallangatta by State Rivers and Water for the purpose of establishing New Tallangatta, was purchased by Holloway Brothers as an extension of their Shelley operation.
In approximately 1954 a new mill was built at Granite Flat on the Omeo Highway and the Shelley operation closed. Ernie Holloway was involved in the building of the mill and accommodation houses in Mitta Mitta. The mill workers travelled from Mitta to work each day.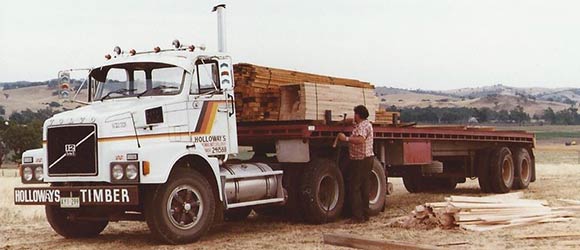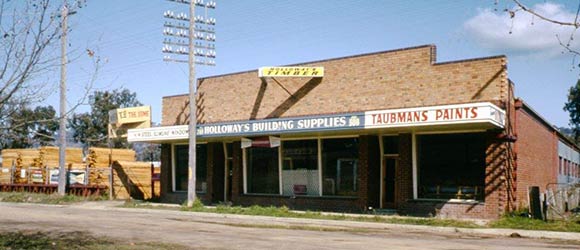 Holloways Building Supplies was established at 49 Tallangatta Rd Wodonga at this time. Originally established on four house blocks with a little shed, with more land being acquired as the operation expanded. The brothers realized that it would be more profitable to set up their own timber outlet to supply their customers. Arthur Holloway continued to run the sawmills while Eric Holloway concentrated on the Wodonga business. A hardware store, offices and joinery were built as demand continued for building materials.
All the timber arriving in the yard from the mill was hand sorted, providing employment for many. With the milling and timber outlets Holloways provided employment for approximately forty staff. Many of these were migrants who proved to be very reliable and trustworthy.
The next generation of the Holloway family became involved. A Hyster forklift was purchased which allowed for bulk handling of the timber. Land was purchased in Sanyo Drive where timber was cleated and dried. Select grade timber, F17 dry framing, builders hardware and tools were sold. Holloways endeavoured to be a one stop shop for framing and fix out of houses.
In 1989 the business was sold to Mt Beauty Timbers who later on sold to Dahlsens. The timber mill was decommissioned. The Holloway family retained the ownership of the premises of 49 Thomas Mitchell Drive leasing to Dahlsens until that operation was moved to Albury in 2013.
In 2014 the lease land was sold to two local businesses. Leigh Martin Marine purchased the parcel of land adjoining their business. Lester and Son purchased the remaining block and demolished the premises. A funeral parlour is now under construction.